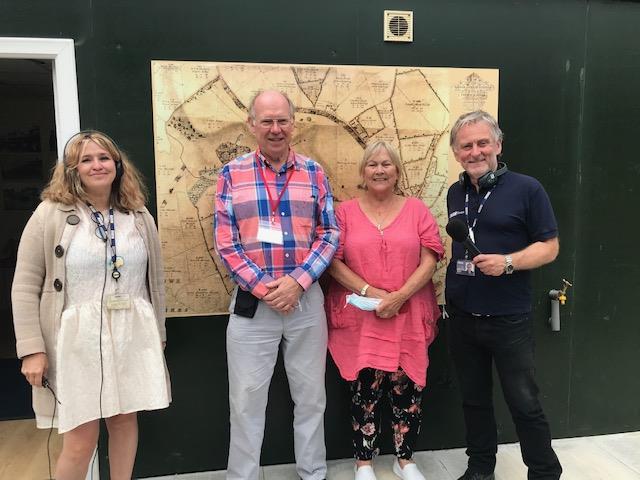 Guess The Location - BBC Essex Quest
31st July 2021 - St Osyth Museum features on BBC Essex Quest radio as the third and final clue to the 'Guess the Location' game. Historical Society members, Nigel and Wendy, share local history stories with the presenters and radio listeners.
---
St Osyth Community Archaeology Project – Help us Dig for Our History
21st August 2021 - St Osyth is a village steeped in rich and fascinating history. From a headless princess, Danish invaders, witch trials, through to a world war base, the village has seen it all. Having previously featured on the Channel 4 'Time Team' project, artefacts found in St Osyth have dated the village back 8000 years, giving us a valuable insight into the various historical stages of the village and showing us ways in which the villagers before us lived in and used the area.
Now it's your turn to help us to find out more about our village's history!
St Osyth Museum and the Historical Society are inviting those living in the village to participate in a community archaeology project to uncover the history hidden beneath our feet.
Using the minimally invasive method of the 1-meter test pit, the project will allow for small tests pits to be carried out in gardens across the village, with the evidence and items found to be preserved and recorded by the Historical Society to build a clearer picture of the way in which the village has changed over hundreds of years.
Full guidance on how you can carry out the project in your garden will be given by local historian and Honorary Fellow of the Department of History at Essex University, David Grocott, who will be presenting an instructional talk during the museums Archaeology Exhibition on 21st of August 2021.
So, if you're interested in our villages history and have a garden of your own, this family friendly activity is the ideal way to contribute to our village's historical records.
Artifacts and data collected during the community dig will be exhibited in the autumn at the museum for all to enjoy.
To register your interest in joining the project or for more information on the community archaeology dig email stosythmuseum@gmail.com
Let's make history!
Stayed tuned for a Q&A with our Resident Amateur Archaeologist - #askanarchaeologist!
---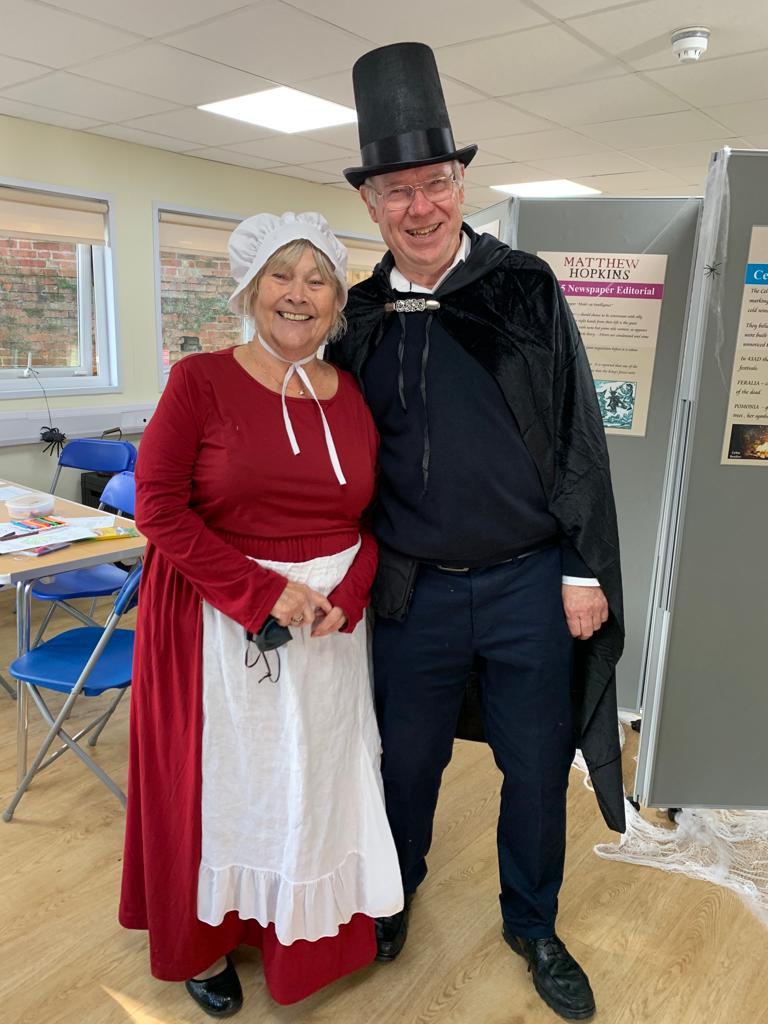 Historical Society members, Nigel and Wendy Jeskins
St Osyth witches story told in Halloween museum exhibition
31st October 2021
The haunting story of 16 women accused of witchcraft in a small rural village is being told in a new exhibition.
The St Osyth Witches event takes place over the Halloween weekend at the village's museum, near Clacton, Essex.
Fourteen women were accused of being witches in 1582 and put on trial, the most famous of them, Ursula Kemp, was hanged, alongside Elizabeth Bennett.
The event tells their stories as well as two other St Osyth women executed as witches in the 17th Century.
A film telling the story of the village's "first witch" - Ursula Kemp - will be screened as part of the event.
The museum's website says Kemp was a poor midwife in the village who fell out with another woman and was accused of using a familiar to kill the woman's child.
Kemp confessed in court to having four familiars - two cats, a toad and a lamb.
During her trial she named several other women in the village as witches, and they in turn named others.
In all, 14 women were tried for witchcraft.
Before her trial, Kemp was reportedly kept in a building known as the Cage, which now forms part of a house in the village.
A plaque on the house states the Cage was a medieval prison, and "Ursula Kemp was imprisoned here before being hanged as a witch in 1582".
Nigel Jeskins, from St Osyth Museum, said although they are sure Kemp and Elizabeth Bennett were executed, they cannot be certain of the fate of the other 12 women, "although some may have died in prison".
The village - and many parts of eastern England - were subject to a further witch hunt between 1644 and 1647, presided over by Witchfinder General Matthew Hopkins.
Hopkins (c.1620-1647) lived in Mistley, Essex and his first accusation was in neighbouring Manningtree.
As many as 300 people were executed for witchcraft in eastern England during this period.
Nineteen people in Chelmsford were hanged for witchcraft in one day, including two from St Osyth, the museum said.
The laws against witchcraft were repealed almost a century later, in 1736.
Mr Jeskins, said: "The story of the St Osyth witches, with its connections to the supernatural, talking imps and magical potions, contains everything we think of today as being associated with Halloween.
"However, these women were very real, and it's important that their story is heard so we can try to understand how this type of hysteria could result in such barbaric acts within so small a community."
The museum's event includes stories of the local women, information about the origins of Halloween, the history of witch hunting and arts and crafts for children.
The St Osyth Witches free event took place at the museum on Colchester Road, St Osyth on Saturday 30 October 2021 from 10:00 to 16:00 and on Sunday 31 October 2021, from 10:00 to 19:00.
(link to original - bbc.co.uk)